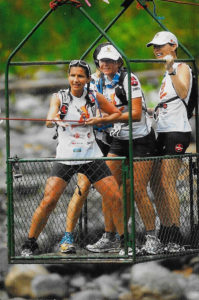 Driven by her fascination for the human healing system and the realization that no single modality suffices in optimizing health, Florence has been learning and sharing ever since she earned her Master's in Exercise Physiology and Physiotherapy. Florence is grateful to be able to pursue her studies in neuroscience, Yoga, Ayurveda and cutting-edge massage modalities from some of the world's best teachers.
After the finish line of her first Ironman, Florence discovers the benefits of Sports Massage. She becomes a student at the American Institute of Sports Massage Therapy with Dr Hungerford in California. After her graduation in 2000, she starts working with the triathletes on Team USAT and supports them for three Olympiads.  Some of her continuing education intensives include neuromuscular massage, ART, Rolfing, joint mobilization and orthopedic massage… For more details on Florence's massage education, click here…
In the 1990s, Florence starts practicing and learning different styles of Hatha Yoga (Ashtanga, Viniyoga, Iyengar, Yin Yoga…). She starts using breathing techniques and postures in her own daily routine, and incorporates them to her Physio sessions. She becomes a Certified Yoga Teacher (1000-hour Synergy Yoga) in 2006. After an intensive with BKS Iyengar, she starts learning Iyengar Yoga with Dr Cole, and becomes and Iyengar Teacher in 2009. She has been a Yoga Alliance Continuing Education provider (YACEP) since 2016. In addition, Florence has been furthering her knowledge of neurosciences (for instance with psychologist Bo Forbes), and has become a mindfulness facilitator.  For more details on Florence's yoga education, click here…
In 2008, Florence meets Dr. Shresta at an intensive training on Yoga and Ayurveda. Inspired by the kindness and wisdom of the Nepalese "Mother of Ayurveda", Florence studies to become an Ayurvedic Lifestyle Counselor in 2010 and is blessed to learn from Dr. Lad. In 2019, she volunteers at Dr. Shresta's clinic in Bhaktapur, Nepal. During that stay, she learns the art and science of Tibetan bowls with Grand Master Shree, and starts incorporating their healing benefits to her meditation and relaxation sessions. For more details of Florence's Ayurvedic education, click here…
Florence has been translating and facilitating Mindful meditation and Mindful movement webinars for humanitarian workers and contractors of the various agencies of the United Nations since 2020.
Since 2017, started the yearly tradition of  "108 Sun Salutations for Karuna" with her students to raise money for Karuna-Shechen, Matthieu Ricard's non-profit organization.
2008 Co-founder and coach of

 

Project Athena, a non-profit organization that encourages women who've endured life-altering medical setbacks to achieve their athletic goals.

2011 Launched and ran the women's division for

 

Sanary Cyclo Bike Club. 
ACTIVE MEMBER of NATIONAL ASSOCIATIONS:
Since 1999

 

AMTA (American Massage Therapy Association)

Since 2006

 

YA (Yoga Alliance),

 

E-RYT 500, YACEP

Since 2010

 

NAMA (National Ayurvedic Medical Association)