"Goals are the finish line of a race, while yoga is an ongoing process throughout your life" – Ganga White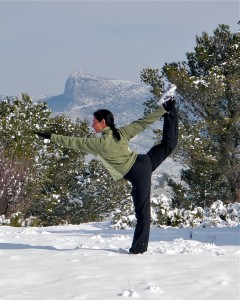 Florence has been practicing and studying yoga for over twenty years. Her first 1000-hour Teacher Training Certification was in Synergy Yoga with Peri Ness in 2005. She holds an ERYT-500 certification and is a certified continuing education provider for Yoga Alliance (YACEP). She is grateful to have been able to study with internationally renowned professors in different styles of Yoga, and continues to pursue her continuing education with dedication. Her most influential teachers are BKS Iyengar, Dr. Cole (Iyengar Yoga), Dr. McCall(Yoga Therapy), Tim Miller (Ashtanga Yoga), and Ganga White (Flow Yoga).
 "As one practice cannot suit everyone, various methods will be advanced, and everyone by actual experience will find out which helps him most" – Swami Vivekananda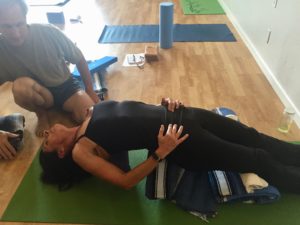 Florence teaches beginners and experienced yogis alike. Her passion is in developing classes that address the imbalances she sees in her Physiotherapy practice and in daily life. The diversity of her training allows her to draw from the precise alignment of Iyengar Yoga, the energetic Vinyasa of Ashtanga Yoga, and the therapeutic integration of Rolfing and Feldenkrais methodologies. Her classes are respectful of everyone's needs, and her adjustments are specific and safe. She emphasizes the use of postures or asanas as tools, not goals, to build stability, mobility, efficiency, and the ability to relax consciously. Posture (Asanas) and breathing exercises (Pranayama) are modified to serve the unique needs of each student, using props whenever necessary.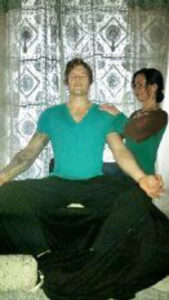 "When I teach a class of twelve students, I am, in essence, teaching twelve different classes" Florence
"The classic posture, when performed with care and concentration, unites body, mind and consciousness into a harmonious whole" – BKS Iyengar
"Our posture in everyday life affects our breathing. Our breathing affects our minds. Our thoughts affect our immunity… Learning to work with these interactions is an integral part of the wisdom of yoga." -Dr Cole
As an endurance athlete, I started my practice of yoga with good strength and endurance, but an obvious lack of flexibility. I still remember suffering through my first class, sitting on the floor while my knees and hips were crying "uncle". I admit it was not love at first sight, but for some reason, I persevered. It took several years and wonderful teachers for me to love the practice. I realized that flexibility was only one of the many aspects of yoga, and not any more desirable than strength for example. Most importantly, I started understanding that my practice was for my own growth, consciousness, and health. Yoga gave me a deeper sense of understanding and kindness to myself. I am forever grateful to my teachers for their patience!
Namaste