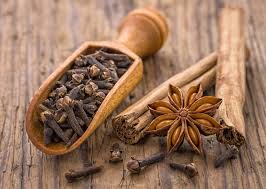 Quantities are for 4 cups, all organics ingredients if feasible. Use whole spices and slightly crush in a mortar or coffee grinder to release flavors.
-1 Teaspoon cloves
-1 Teaspoon cardamom
-1 or 2 cinnamon sticks
-1/8 Teaspoon (a few pods) black pepper. Use long pepper if available
-1 Teaspoon grated fresh ginger
Pour boiling water over the above ingredients. Steep for 5 minutes and serve hot. You may sweeten with raw honey: its heating and drying qualities do wonders to relieve congestion. Stevia is also suitable.
This "Kapha" blend helps improve digestion and circulation, and is a natural energy booster, without the side effects of caffeine.
Warning: with the approach of summer, it may be too heating for some. A cooling summer blend with mint will be preferable.
Florence Debout
Sports Physiotherapist
Yoga Teacher
Ayurvedic Lifestyle Counselor
Info@florencedebout.com
This article is protected by copyright. It is forbidden to reproduce its content without our written permission. Copyright @ 2013 florencedebout.com